SHY has an exciting network of space academics based around Yorkshire. Those at the University of Leeds run an annual open research festival called Be Curious, which aims to showcase how academic research is making a world of difference to people's lives. In 2021's online extravaganza, SENSE students, academics and managers were involved in a whole host of events. This includes in the Be Curious LATES programme, making short videos and the headline act: Be Curious x Unlimited Space Agency: LIVE from the Space Shed. SENSE scientists were interviewed by Jon Spooner from the Unlimited Space Agency, and not forgetting Mini-Jon. You can watch the full event here, or you can find the videos for each session below.
Brrr… science in the coldest, windiest and most remote continent on Earth
Professor Dame Jane Francis and PhD student Bryony Freer launched the day, both sharing their love of Antarctica.
Jane's favourite memory of Antarctica was sitting on the edge of cliff looking out over the ocean after a long day of collecting samples; the Sun was shining, the wind had dropped so it was warm (it does happen in Antarctica!). The Sun was shining on the ice, the icebergs and tiny flakes of ice in the air, making the whole world glittery. It was calm and tranquil, with no noise. Beautiful.
Bryony went over Christmas, so experienced the whitest White Christmas you could imagine! On Christmas Eve, they'd been digging snow pits ~2-3m deep to look at layers in the ice… which they turned it into a cave! They then slept in their snowcave overnight and woke up on Christmas day, as it started snowing on their faces, in Antarctica. Amazing.
Watch their full interview here (hats and gloves not necessary!).
Build your own satellite model
PhD student Sophie Durston led the audience through how to build their very own Aeolus satellite model. Aeolus is a European Space Agency (ESA) satellite, and the very first satellite used to measure wind. It was launched in 2018, and recently the measurements have been used to improve weather forecasts. Find out more fun facts from Sophie and SENSE manager Ruth Amey, as they make their own models in this video. Once you've downloaded your template from the ESA website, and have some scissors and glue handy, Sophie will lead you through the steps.
With all the satellites she 'made earlier', we look forward to watching Sophie's future career as a presenter of Blue Peter…! And can you make your satellite in 1 minute 16 seconds, like in PhD student Phoebe Hudson's video?
And if building Aeolus isn't enough, take a look on the ESA website at all the other satellites you can build at home. Will you go for Rosetta? Integral? Or one of the many spacecrafts? Perhaps you could do them all….
A Tour of Earth from Space
Next, the audience blasted off with PhD students Bryony Freer and Calum Hoad, giving a Tour of Earth from Space. We don't want to give too much away… but highlights included stuck ships, retreating glaciers and even penguin poo. Watch the video for a tour of Earth as you've never seen it below, and you can follow along using this resource page.
The Earth from Inside Out
Dr. Ruth Amey and Ita Gonzalez discussed watching the Earth quake and volcanoes erupt, from Space. Ruth uses satellites that can see through clouds to watch the ground move centimetres or millimetres in earthquakes… using satellites that are orbiting at 693km above the Earth! They discuss not only earthquakes on Earth… but also on the moon and Mars. Where of course they aren't earthquakes at all, but moonquakes and marsquakes. Watch here!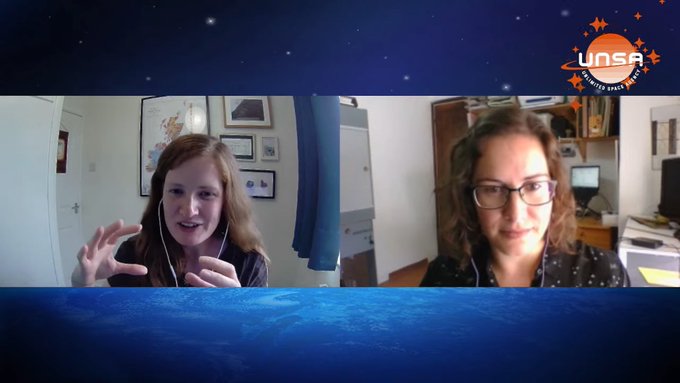 How I hacked my way into Space
A very special session… look out for future Space Shed events to find out how Mini-Jon hacked his way into Space!
Q&A with Mini Jon and Dr Alice Bunn, the UK Space Agency's former International Director
We really enjoyed hearing Jon interview Dr Alice Bunn, the former UK Space Agency (UKSA) International Director. Find out what it's like to be the international director of a Space agency(!) in this video.
Understanding the world's oceans from space
Dr Fatma Jebri and PhD student Sophie Durston took the audience to the world's oceans. Wave hello to them in their interview here, and find out what satellites can tell us about seaweed.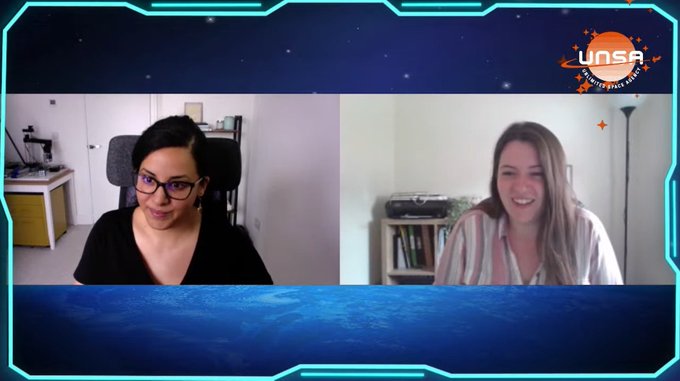 Lates – Morag Fotheringham
PhD student Morag Fotheringham gave a brilliant talk in the Be Curious lates session: sustainable scientific solutions. Hear from Morag about her work watching Arctic Glaciers sliding away in a warming climate in this video.
Measuring climate change from Space – in two minutes
Climate change is the defining issue of our time – find out in Bryony's video how we use satellites up in Space to measure climate change.
The students have landed
Two weeks after Be Curious x Unlimited Space Agency: LIVE from the Space Shed, the YouTube video has received over 450 views! The event was highly successful, and SHY are very proud of the PhD students involved in this – Bryony Freer, Sophie Durston, Calum Hoad, Morag Fotheringham, Phoebe Hudson for their interviews, talks, videos and practical activities; Emily Dowd and Lucy Wells for working behind the scenes on social media, and Bryony for coordinating the involvement of the students and academics. Thanks to the Engaged Research team at Leeds (Alexa Ruppertsberg and Shauni Sanderson) and to Jon Spooner from Unlimited Space Agency, for all the fun, science and satellites!